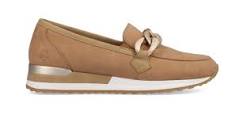 Remonte shoes is a high-quality product for women by the company Rieker. Exquisite upper materials combined with good workmanship ensure maximum comfort. Remonte offers many great shoes with beautiful decorations and in trendy styles, which are an enrichment for every outfit.
Colour: Beige & Blue 
Heel Height: Low wedge 
Additional Features: Slip on Shoe with a chain detail across the front.
Style Tip: This loafer is a perfect colour for the summer, pair with black skinny jeans or dresses
011223kb